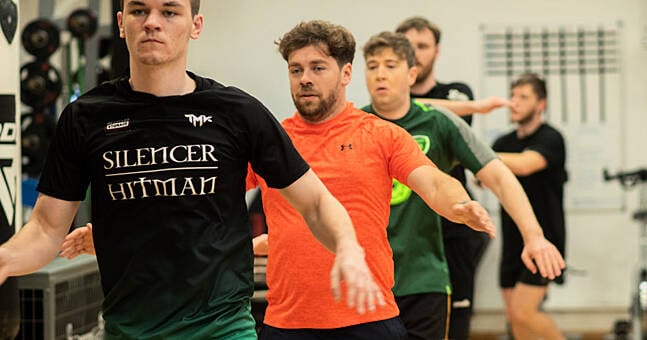 TRAINING DAY: Irish boxing brothers put GAA team to the test
TAKING a break from a training camp in Manchester, brothers Aaron and Stevie McKenna have invited the players of the Fullen Gaels GAA hurling team to a very special training session.
Manchester-based Fullen Gaels, who are preparing for their All Ireland quarter-final against junior champions Ulster in January, were put through their paces with a session covering stability, stamina and stamina on Thursday October 28.
The brothers, who brought along fellow boxer Brett McGinty and trainer Fergal McKenna, also set the All Britain Hurling Champions through training and boxing techniques.
The McKennas, from Monaghan, and McGinty from Donegal are currently training in Manchester at Ricky Hattton's Gym, where they are preparing for their next fights – which are due to take place in Coventry on November 13 in the city's Skydome arena.
Matchmakers are finalizing fights that will see Aaron challenge for his first title and set him up for a breakout year in 2022.
Stevie, who is due to end 2021 with two more fights, has set her sights on a showdown with Conor Nigel Benn, with matchmakers hoping the two will reunite next year.
The plan for undefeated Donegal middleweight Brett McGinty is to book another fight in December this year as the young and future star develops his style.
Elsewhere on the Coventry bill on November 13, Shakan Pitters and Reece Cartwright will square off to contest the Vacant WBC Light-Heavyweight International Championship.
Coventry hotshot River Wilson-Bent takes on Rowley Regis rival Tyler Denny for the vacant English Middleweight Championship.
Brixton heavyweight Isaac Chamberlain, welterweight Kaisee Benjamin, Birmingham super middleweight Idris Virgo; Sevenoaks highly talented super welterweight Michael Hennessy Jr; and Brighton's undefeated heavyweight destroyer Tommy Welch also feature.
Tickets are available here.