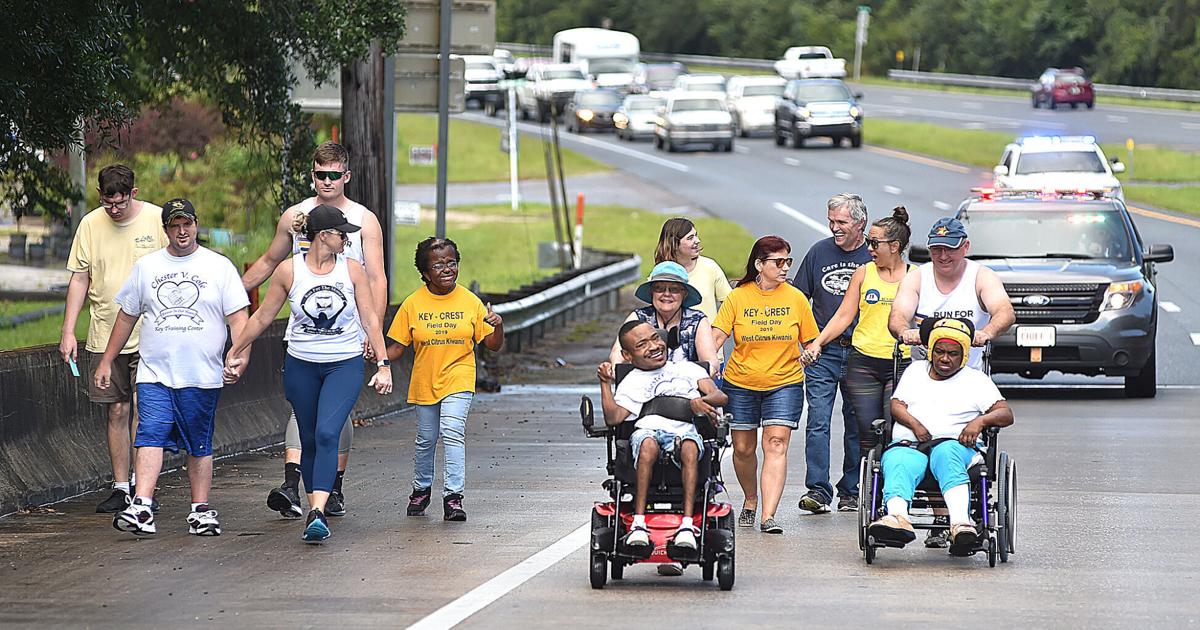 Spotlight on Nonprofits: Key Training Center Where the "Key" is Love | Local News
Editor's Note: Every community depends on the resources and support that nonprofits provide to people, whether physical, material, or emotional.
The Chronicle's ongoing series, Nonprofit Spotlight, showcases Citrus County's nonprofit agencies that exist to help improve the lives of everyone.
To have your nonprofit organization considered for a spotlight, here is the link to an online form you can fill out:
https://www.chronicle online.com/site/forms/ nonprofit_spotlight
•••
The essence and guiding principle of Key Training Center is simple: love.
Love for "the least of them", for those who struggle daily with intellectual, developmental and physical disabilities.
It was love that prompted Harry and Elsie Van Nortwick in 1965 to start a group ARC, Association for Retarded Citizens, which grew into the idea of ​​a safe and nurturing place for loved ones with developmental disabilities.
It was love that prompted Ruby Orvis to donate 40 acres to Lecanto where the main campus is located. Today, the Key Center has buildings across the county, including group homes, apartments, and thrift stores.
It was love that led the late Chet Cole to become Executive Director of the Key Center, a beloved leader and heartbeat of the organization until his death in 2017.
Cole came out of love for his sister, Dorothy Jean, who lived at Key Center from 1981 until her death in 2016.
And it was love that started Key Center's annual 180-mile "Run for the Money" in 1976 and love that inspired volunteer runners to take the grueling trek from Tallahassee to Lecanto each July during of the past 46 years.
It's also the love for Key Center and its people that draws people from across Citrus County to participate in "Run for the Money" fundraising and awareness events: from a virtual race to a month to week of the spirit for customers, from a Reach for the Stars auction dinner to the race itself, culminating in a homecoming celebration, welcoming runners back to Lecanto.
This year, the 46th "Race for Money" will take place from July 18 to 23.
A team of runners averages 34 miles a day for six days, which is the equivalent of seven Boston Marathons.
Over the past 46 years, runners have covered a total of 11,523 miles, one stage at a time in the sweltering summer heat.
The first run for the money in 1976 was from the Key Center in Tallahassee, with just Chet Cole and one other person running with him.
Reuben Askew was the governor at the time.
"We didn't do it in July but we did it in May," Chet Cole told the Chronicle in 2015, and handed her a beautiful bouquet of flowers. Then we thought it might be best to run from Tallahassee to the Key.
Cole created the race as a way to demonstrate the challenges key customers face every day.
That first year, he raised $6,000 and contributions made since then now total over $5.5 million.
These funds raised help the Key Center provide scholarships to approximately 40 individuals who receive little or no state government funding for services and who are on the Agency for Persons with Disabilities waiting list. intellectual.
"The time, contributions and efforts of volunteers and donors enable these unique people with intellectual and developmental disabilities to live, learn, work and engage in their communities," said Melissa Walker, Director Executive of the Key Center. "Without funding provided by generous donors and encouraged by events like this (Run for the Money), scholarships are not available to give these people the chance to thrive."
Key Training Center's mission is to help people with developmental disabilities realize their God-given potential through a range of individualized services that promote growth, choice and independence with kindness, love, dignity and respect.
Some of the services offered include:
The Adult Day Training Program helps clients improve their life skills in structured classrooms, sheltered workshops, or with a business in the community; they can do piecework in the workshop, work in one of the thrift stores, work outdoors landscaping and mowing the lawn, explore their artistic talents, or volunteer in the community .
Social and recreational activities for its clients.
Residential opportunities, from group homes to independent living apartments for her clients.
Key Elder Care day program for seniors, with trained care for people with Alzheimer's and dementia.
This is just a small sample of the services offered by the Key Center.
All of their services are designed to help nearly 300 adults with developmental disabilities with year-round educational, vocational, recreational and residential services with the goal of helping them reach their potential.
A few more key points about the Key Training Center:
The annual operating budget is $13.4 million: 60% from government funding, 30% from retail and investment, and 10% from public support/donations/grants/special events/bequests.
The Key operates two adult day education campuses: one in Lecanto and the other in Inverness.
Currently, 18 group homes and four apartment complexes spread across the community serve a total of 145 residents. The first group home built in 1977 is still in operation today.
The Key Center transports clients for adult day training and residential programs and currently has 40 vehicles ranging from sedans to passenger buses.
The Key Center employs 285 people.
"For years we have been plagued by low service rates from Florida providers for years, but under the leadership of Governor DeSantis, the Senate and the House, we will be able to increase direct care staff to $15 from time in July to be locally competitive," Melissa Walker said.
To learn more about the Key Training Center, the Run for the Money and all of its events and how to get involved, go online to www.keytrainingcenter.org.