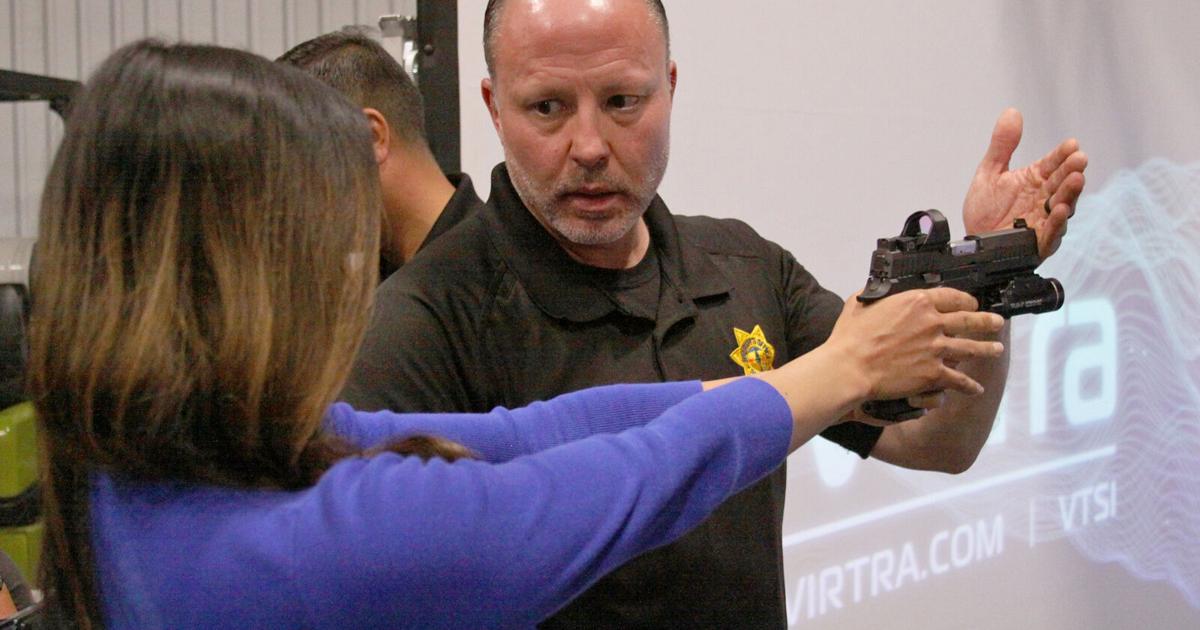 San Mateo County Sheriff's Office Announces New VR Training System | Local News
The San Mateo County Sheriff's Office has unveiled its new virtual reality training system which it says will help provide the best possible training for active shooting and de-escalation.
"My job is to make sure my deputies are trained and prepared for an active shooter situation," Sheriff Carlos Bolanos said. "I felt it was essential to invest in the VirTra 300 4K, a unique simulator and precisely the type of technology law enforcement needs today."
Arizona VirTra's V-300 option uses five large screens and a 4K projector to provide an immersive 300-degree training environment for reality-based situations, setting it apart from older technologies. Hundreds of scenarios are available around active shooters, use of force training, de-escalation and mental health crisis. A user's decision during scenarios affects outcomes throughout training, giving responsibility and choice to the user. Scenarios are filmed in advance and are available in a database, with actors providing facial cues and actions for officers to retake.
Users receive pistols modified explicitly for a training experience without live ammunition, but instead use compressed carbon dioxide cartridges in the magazine.
The CO2 allows feedback on the shot location after training to see how you did and areas that need improvement. After receiving general information about the situation, users then enter the virtual reality area. Once the training has started, users can go alone or be accompanied by a partner. Users walk through an immersive environment that can create high heart rates and high adrenaline levels without being in a live scenario.
The sheriff's office is the first agency in California to have the tool. Bolanos called it another additional tool to help deal with threats of active shooter incidents, which have increased across the country.
"Each training scenario helps officers improve their critical thinking and tactical skills under pressure and the psychological stress of realistic situations," Bolanos said. "This simulator is a great addition to our organization. It will be available to all San Mateo County law enforcement agencies and state and federal agencies who wish to use it.
sergeant. Philip Hallworth said scripts could last anywhere from five to 15 minutes. The sheriff's office said students would likely go through scenarios three to four times a year to learn or update their skills. Another program allows training personnel to record or photograph any location in the county, such as a courthouse or theater. The sheriff's office can then insert characters and scenarios so that deputies can see local areas. On its website, VirTra said it bases scenarios on case law and after-action reports to get the most realistic experience. Hallworth said the experience is far more immersive than previous single-screen simulators and headsets. Deputies are also expected to issue orders and identify and neutralize any threats. The sheriff's office rents the equipment for $60,000 a year. Hallworth noted that sometimes live training isn't feasible, such as taking over a mall or school during the day and getting enough people to participate.
"It's never going to override the live workout, but it's a great complement," Hallworth said.
Hallworth said the program triggers real body alarms and stress levels and gives the brain the ability to process being in dangerous and varied situations. Putting people through high stress situations will hopefully lead to stress inoculation and better decision making in the real world.
"Triggering real stress levels is what we want to do for our deputies, students and our officers in this county, to acclimate them, so the first time they get a call if this happens, it's not the first time they see her," Hallworth said.
(650) 344-5200 ext. 102