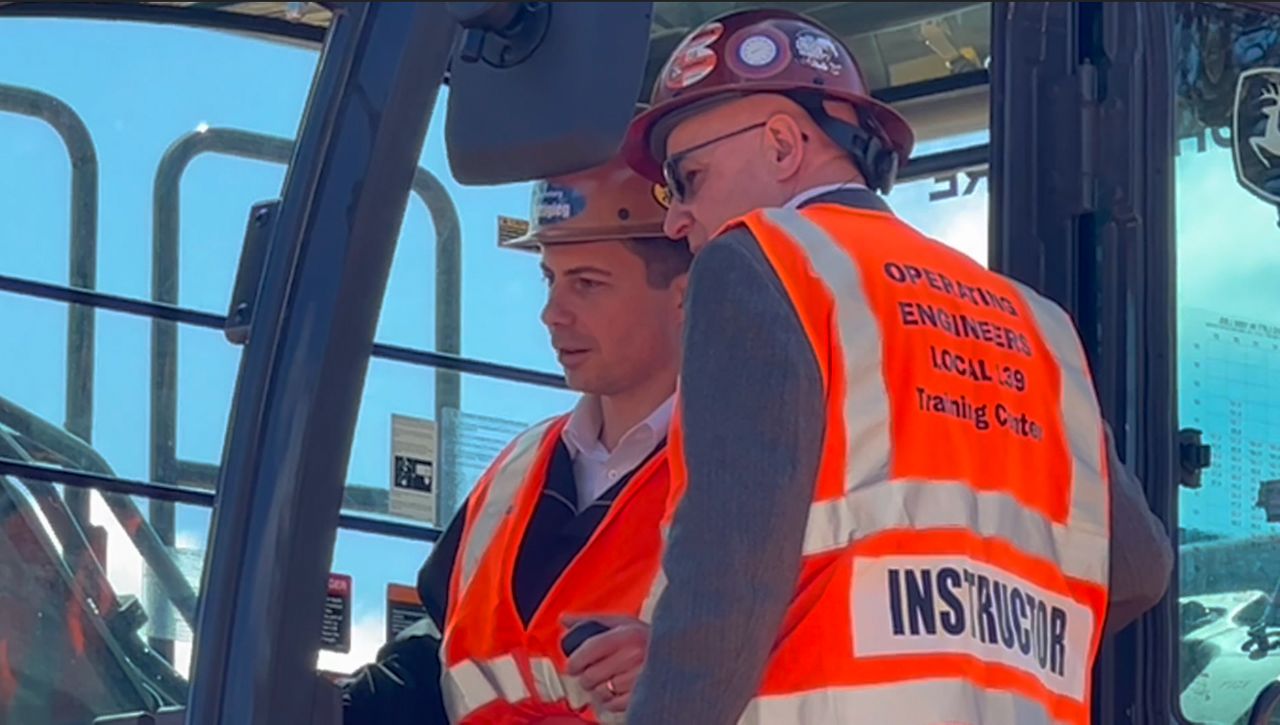 Pete Buttigieg visits Wisconsin Construction Training Center
COLOMA, Wis. – With a little guidance from instructors, Transportation Secretary Pete Buttigieg took control of an excavator and started moving dirt.
It's something he'd like to see others do as the nation prepares to revitalize its infrastructure through a $1.2 trillion bipartisan bill.
---
What do you want to know
A $1.2 trillion bipartisan infrastructure is expected to improve the country's roads, internet access and modernize airports.
The plan is expected to create jobs every year for the next decade
In order to make it a success, workers are needed to build these projects
---
But these projects need manpower to carry them out.
"At the end of the day, we can't leave any talent on the table. We need to recruit a whole generation of workers from all backgrounds and walks of life," Buttigieg said during a tour of the Local 139 Operations Engineer Training Center in Coloma.
. @secretaryPete meet with Wisconsin students at Operating Engineers 139 Training Center in Coloma. pic.twitter.com/ERevTanMZ0

— NathanPhelpsJournalist (@NathanPhelpsMMJ) April 19, 2022
Buttigieg added that passing the law was just one part of a much larger national project.
"Listen, we have the funding planned. It's an important step, but the real hardest part is delivering," he said. "It means having a trained and qualified workforce to do this work. Everything from installing EV chargers to laying pipes and securing bridges. »
The cash injection is good news for Ken Miller. He is a seasonal instructor at the center and an excavator operator.
"It is very important for our training center and our infrastructure. It's huge," he said. "We haven't had money like this in a very, very long time."
For Miller, there's satisfaction in helping groom a new generation of construction workers.
"I love seeing students grow up, take these programs and come back 10, 15, 20 years later and say, 'Hey, I'm doing this,'" he said. "All success stories."
Buttigieg said he was confident the workers would be found, but it would take time, effort and training.
"It's not that human beings aren't there," he said. "It's that we haven't called more people into careers in the trades where we will need the work the most, and we haven't provided them with the skills they will need to thrive.