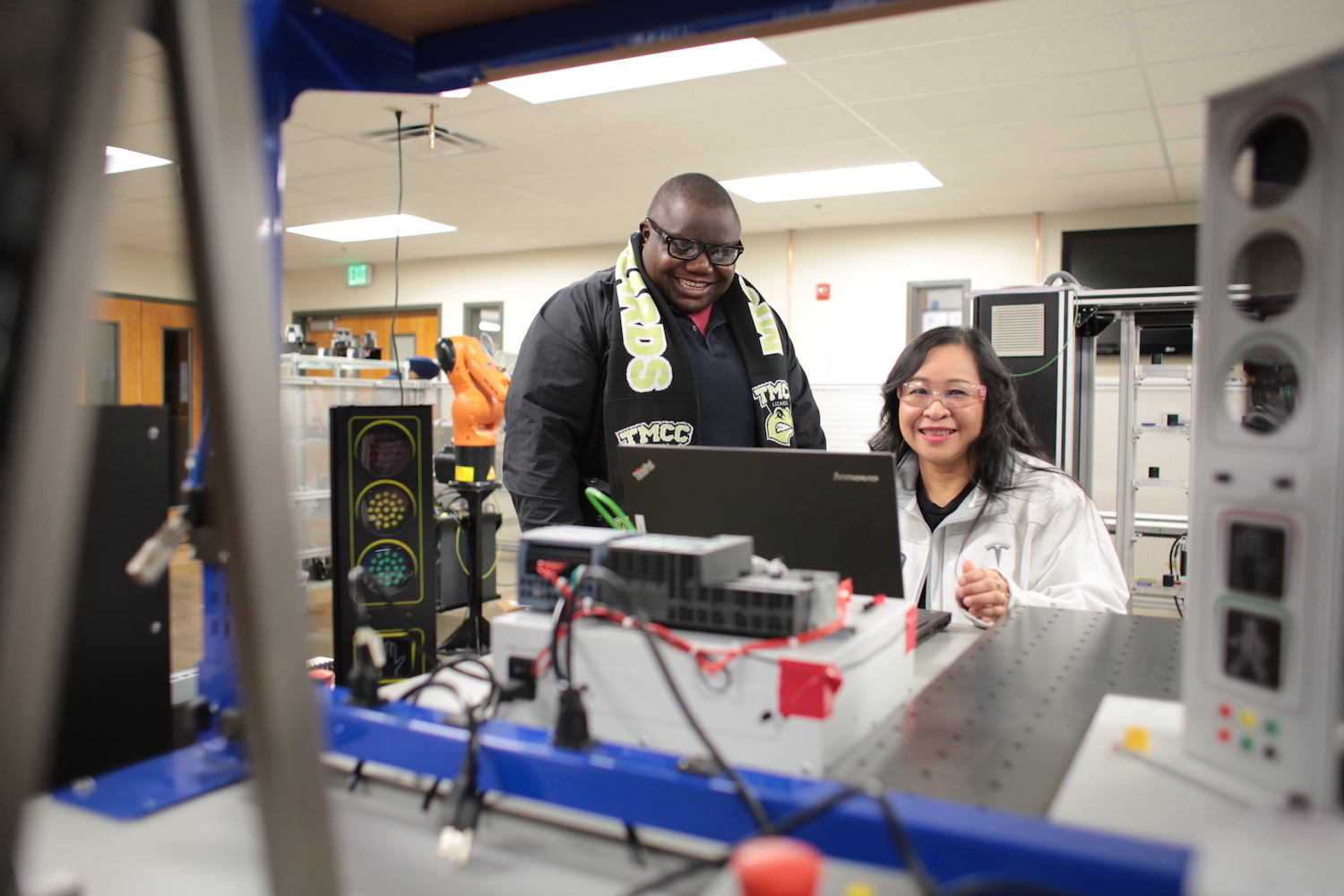 Panasonic and TMCC team up for a training center
Students take manufacturing training at Truckee Meadows Community College.
Courtesy of Truckee Meadows Community College
Panasonic Energy North America's new divisional campus on East Plumb Lane in Reno will include a 10,000 square foot training facility for entry-level service technicians and advanced-skill operators.
The nearly 95,000 square foot building, being renovated by Group West Construction, will be used for R&D and other support functions for Tesla's Gigafactory at the Tahoe Reno Industrial Center. The Governor's Office of Economic Development approved a $1.6 million grant in mid-June for the new TMCC Training Center, which will essentially function as an easy access point for the community college's Panasonic Preferred Pathway program. .
"The location is great because it's so centralized," said Karin Hilgersom, president of TMCC. "The goal is to help them recruit workers and provide just-in-time training so they can have a good stable talent pool.
"Workforce development is really about partnerships to make Northern Nevada competitive for business," she said. "This is a great partnership for TMCC and Panasonic.
TMCC's 200-hour self-paced P3 program includes instruction in manufacturing concepts such as material handling, quality systems, precision measurement, process management, documentation and electrical circuitry, and completes through a range of competency-based certificates.
However, students who complete the program can also continue their education, Hilgersom noted.
"The program is self-paced and structured in modules so that students can continue to develop their skills," she said. "The end goal is flexible – students can earn a certificate, AAS diploma, or even a four-year diploma in advanced manufacturing."
Stacey Bostwick, Director of Workforce Development at GOED, said the new partnership training center provides another crucial entry point for workers to boost their manufacturing skills.
"Having more access points is really important to increase the pool of talent and skilled training," Bostwick said. "We were trying to figure out if it would be better to have additional sites closer to the employer at TRIC, but ultimately it made more sense to create a program closer to the community where people come from to these jobs.
"Panasonic recognized that it would be much easier for them to acquire a site and work in partnership," she added. "They could have done it on their own, but there's value in working together – Panasonic has the expertise in the industry and they know what skills they need and how to move people forward on their career journey. career. That's what they do. TMCC brings the training know-how. They have a plug-and-play program, they know how to bring people in, develop their skills, and get them out and find jobs. It really is the best of both worlds.
Although the training center is owned by Panasonic, it will be equipped by TMCC and staffed by university instructors. The program reduces risk for students, Bostwick said, because they likely have jobs scheduled to finish or they're already working while studying, which differs from the historical model of going to college for two or four years and to graduate with no real prospect.
"This idea that you train for X months or years doesn't work for people," Bostwick said. "They need to work.
"We do work; work for people and employers. It works because you have an increased talent pool and it gives people the opportunity to not have to make risky choices when investing in themselves – this program eliminates that risk.
Panasonic has an immediate need for 400 jobs that can pay up to $32 an hour, the company said in a press release. TMCC's Hilgersom said those salaries were a big draw to students entering the college's manufacturing programs.
"Students really want a good job," she said. "They're interested in this job at $32 an hour. The work is worth more than the piece of paper (AAS certificate or diploma), and we are that intermediate step to developing the skill set that makes a great workforce.
GOED's Bostwick praised Panasonic's efforts to create a dedicated advanced manufacturing center that can help bolster its workforce.
"Employers in Nevada are helping each other out," Bostwick said. "It's a very difficult space for employers, and it's a model for other employers to explore more partnerships and talk to community colleges if that's part of their skilled labor needs. .
"It opens the door to encourage other employers to have these kinds of conversations and tap into the resources available," she added.
The new advanced manufacturing training center was funded by GOED Workforce Innovations for the New Nevada Fund, which serves workforce development needs across the state. The Nevada System of Higher Education, Governor's Office of Workforce Innovations, Department of Employment, Training and Rehabilitation, and Nevada Department of Education also worked in tandem to coordinate its creation.