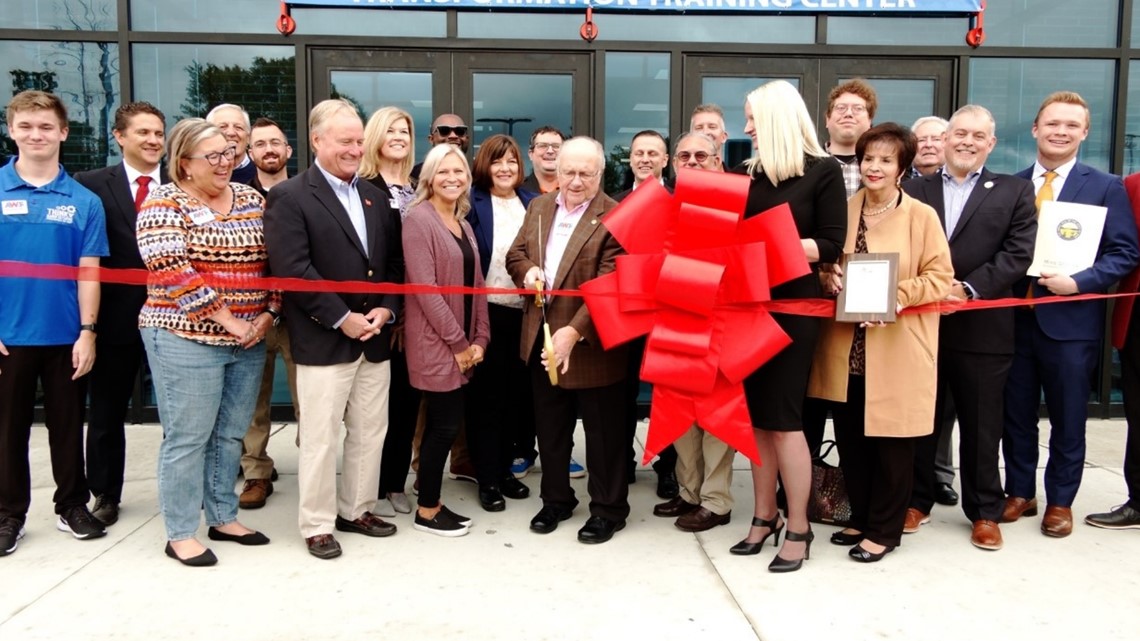 Opening of a processing training center in Lake County
A new training center has opened to secure the future of Ohio manufacturing.
MENTOR, Ohio — The first Friday in October is National Manufacturing Day.
It has high-tech learning facilities for members, local schools and the community. AWT, or Alliance for Working Together Foundation, is the organization behind the project. But the new center isn't the only way to expose people to the making.
The successes of the 12th Annual Robobot Competition have an impact in more ways than one. Dozens of area high school teams spent months building battle robots during their three minutes in the ring until only one robot was left standing.
"So this is a way to introduce high school students to manufacturing by building a 15-pound robot. And we pair them with a manufacturing company," said Teresa Simons, executive director of Alliance for Working Together. AWT puts the competition.
The battle robot, Buttercup, built by Mentor High School, took first place.
"It was just an incredible journey," remarked Alec Byrum, the Mentor High School team's academic advisor. "We took sheets of cardboard, cut out different shapes to work with, and seeing it go from this one to 3D printing to final design and then finally winning it has been amazing."
With this enthusiasm, the Alliance for Working Together hopes students will consider careers in manufacturing. Currently, the industry is growing, while the number of skilled workers is decreasing.
According to the 2022 Marcum Nation Manufacturing Survey, 83% of companies say attracting and retaining skilled workers is their biggest challenge.
"We need to normalize careers in manufacturing," Simons said. "And really, in the long run, not going into debt to go to school and get into a career where you can make a good living."
To normalize these career choices, AWT organizes summer camps for 5th and 6th graders. Students complete hands-on projects, learn STEM concepts, and visit area businesses.
"We want to introduce it to them at a young age," said Rachel Metcalf, AWT's educational director. "They like to work with their hands, and they go to these manufacturers and see how high-tech and how clean they are."
For middle schoolers, there's the Juriorbots contest, where smaller robots enter the fighting ring. Wickliffe Middle School is undefeated in the competition.
"Definitely amazing to win. I put a lot of work, we all put a lot of work into the robot, so it's amazing to win," said 7th grader Ryan Stevenson-Powell.
Today, AWT's latest project is the Transformation Training Center. Two years in the making, the center has been funded by national, state, and foundation grants, as well as donations from local businesses. The objective of the Mentor center is to fight against the lack of local skills.
"What we saw was the need for additional training. And we have an apprenticeship program that will be hosted at this facility. This will give us the opportunity to train additional people from different industries," Simons said.
The center is a workforce development center, with various labs, and the headquarters for the technology programs of the Mentor, Wickliffe and Euclid schools.
"I can't believe it, it's just hard to believe," said AWT founder Roger Sustar.
Sustar hopes the center will ensure a future for local manufacturing.
"We can have kids trained and we can do manufacturing like before. Do you remember it was like the number one city in the world? We were the biggest community making things. I hope one day we will come back to this and it will be my dream come true," Sustar said.