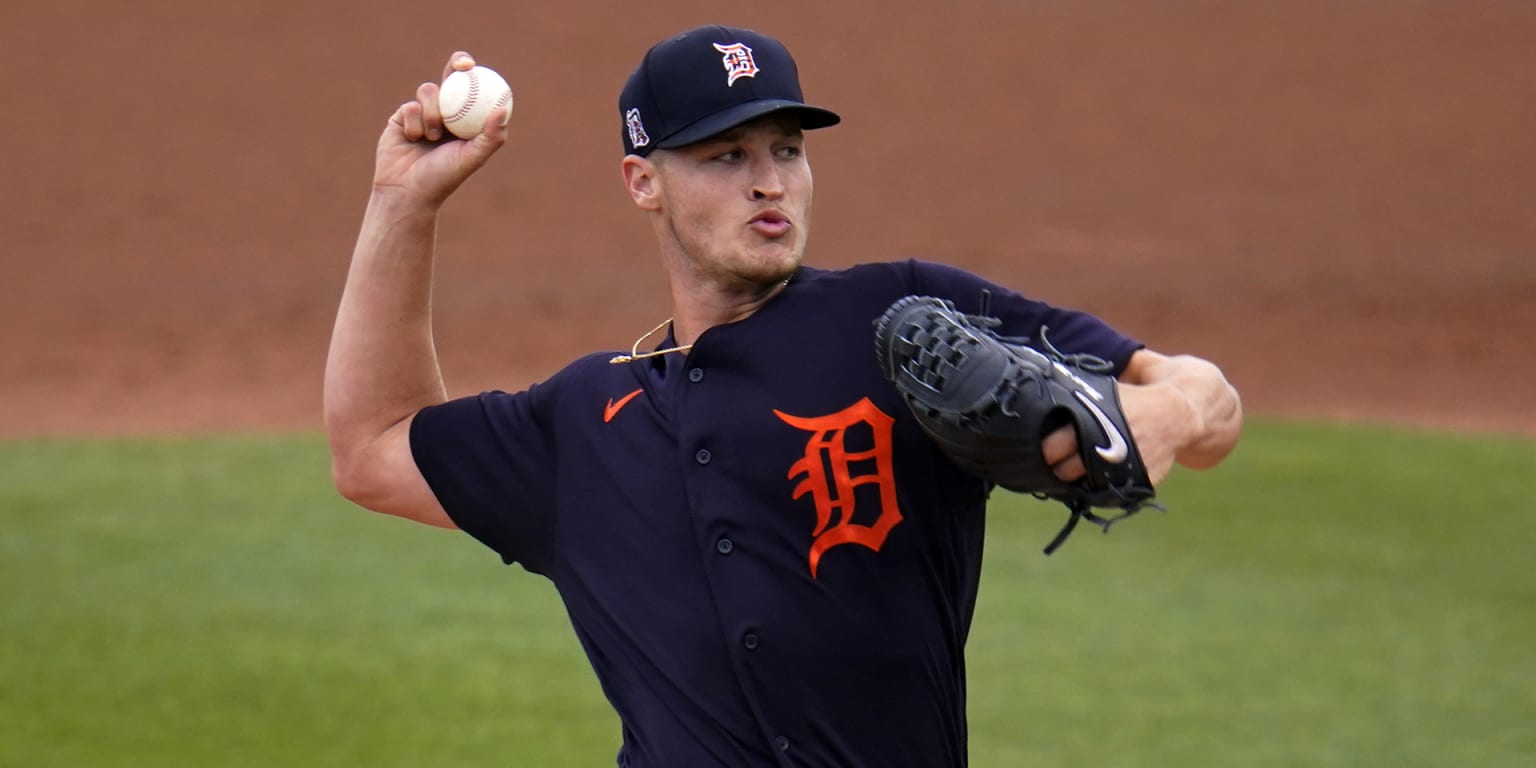 Matt Manning added to Tigers alternate training site
DETROIT — As Casey Mize and Tarik Skubal continue their learning process as part of the Tigers rotation, another top young pitcher is making a move to Detroit's rotation. Matt Manning is expected to report to the alternative training site in Toledo shortly.
"The idea is to maybe give him a release on the alternate site before the start of the Triple-A season," Tigers manager AJ Hinch said.
General manager Al Avila told MLB Network Radio on Sunday that Manning is scheduled to start the Triple-A Mud Hens' season opener on May 4 against Nashville.
Manning, 23, was already expected to join the Mud Hens, having made 26 starts at Double-A Erie between 2018 and 2019. The Tigers kept him in Lakeland, Florida for spring training from the minor league rather than sending him to the alternate site with other Triple-A players so he can increase his workload at a steady pace in better weather conditions in Florida. Considering at least three matches at alternate venues were postponed by weather conditions, including a snowstorm in Toledo earlier this week, that decision worked.
The move doesn't really impact Manning's major league schedule. The Tigers are already working with essentially six starters since Spencer Turnbull returned from the injured list on Wednesday, after propelling Skubal into piggyback starter status for the time being. When the Tigers inevitably need help with injuries or other reasons from depth, Manning should be at the top of the list.
Relievers Rony García and Wily Peralta are also transitioning from Lakeland to the alternate site. García, who spent last season with the Tigers as a Rule 5 draft pick, was chosen for Double-A Erie earlier this month after missing spring training following a appendectomy. Peralta signed a minor league contract with the Tigers in February and was supposed to attend major league spring training as an unscheduled guest, but he failed to make it in time. due to visa and travel issues.
Miggy back with a plan to monitor workload
Miguel Cabrera returned to the Tigers roster as expected in Sunday's 4-0 loss to the Royals. In his first game since April 10, he played at first base and hit out at third (0 for 4). But as the Tigers prepare for another three-city road trip starting Tuesday, Hinch plans to give Cabrera a few scheduled days off to monitor his wear as the 38-year-old gets back into his swing after a left bicep strain.
"It's great to have Miggy back," Hinch said, "and I'm going to have him on a schedule for the first two weeks. I'm going to give him a few days off on his next road trip.
The short stay in Toledo might not be long
The Tigers moved infielder Zack Short to the alternate site to make room for Cabrera on the 26-man roster, but Short left after impressing Hinch and other staff.
"He's a fundamentally solid player who has a little edge over him," Hinch said. "I know he was really proud of his first success [Friday], but he also wasn't going to let that be the storyline with the loss we had. He's quite an intriguing guy who can adapt to a lot of Major League teams.
"I told him in his meeting [Saturday] it's not his last time here. I want to get him here ASAP when the list makes sense. He has a lot to learn and he has a lot to do to improve, but he also has a lot to give to this team whenever we need him.
Mazara out until May
Avila told MLB Network Radio that injured outfielder Nomar Mazara (left abdominal strain) will continue in rehab at Lakeland until the start of the Triple-A season. The Tigers plan to put him in rehab with the Mud Hens when their season opener May 4, hoping to get him back from the injured list around May 9.