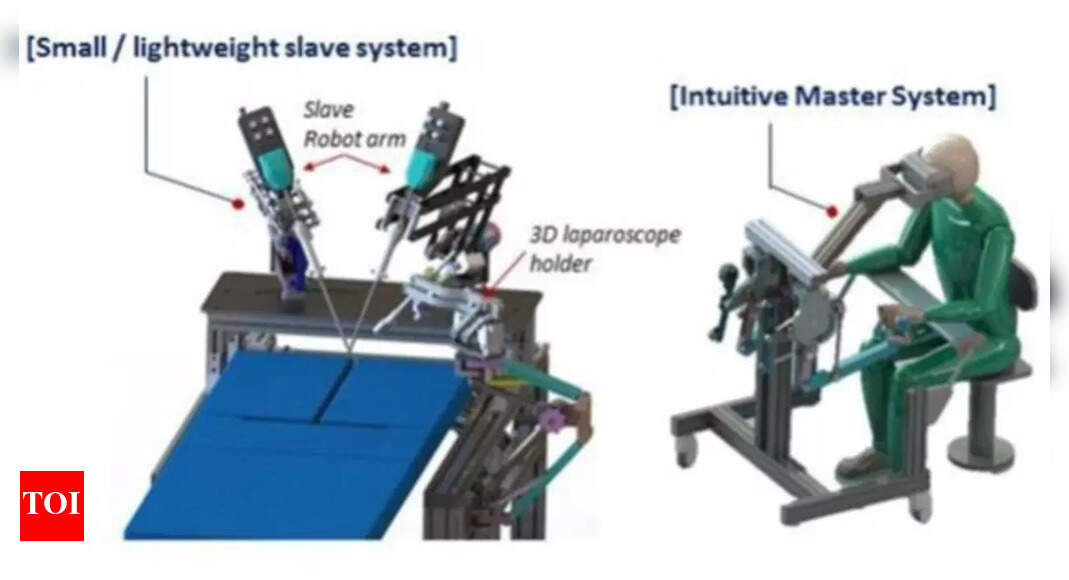 India and South Korea jointly develop a training system for robot-assisted surgeries | India News
NEW DELHI: As robotic surgery is redefining medical treatment across the world, India and South Korea have jointly developed an efficient, user-friendly, affordable and real-time training system for robot-assisted surgeries as part of a bilateral industrial research and development (R&D) program .
A prototype has been developed which is said to cost around Rs 20 lakh compared to Rs 12 crore for the imported alternative. It includes a new sensor designed to provide haptic feedback. It can cost-effectively train surgeons and medical students at a time when robotic surgeries are gaining more and more patient acceptance.
"As robotic surgery revolutionizes treatment by providing surgeons with minimally invasive yet precise, stable and dexterous functionality, especially in the case of neurosurgery, training is key…This robotic endotrainer will facilitate broader training of surgeons using robotic systems leading to better patient outcomes," the Ministry of Science and Technology said in a memo on the India-South Korea joint venture.
The real-time training system was jointly developed by L&T Technology Services, Bengaluru, with PSG College of Technology and PSG Institute of Medical Science and Research, Coimbatore, and Korea Advanced Institute of Science and Technology (Kaist). The program was supported by Global Innovation & Technology Alliance (GITA), which is a public-private partnership between the Ministry's Technology Development Board (TDB) and the Confederation of Indian Industry (CII).
"The robotic endotrainer is aligned with various national missions, namely Make In India, Health for All, Digital India, Inter-disciplinary Cyber ​​Physical Systems and Skill India, as well as India's goal of achieving the Sustainable Development Goals – good health and well-being and industry, innovation and infrastructure," the ministry said.