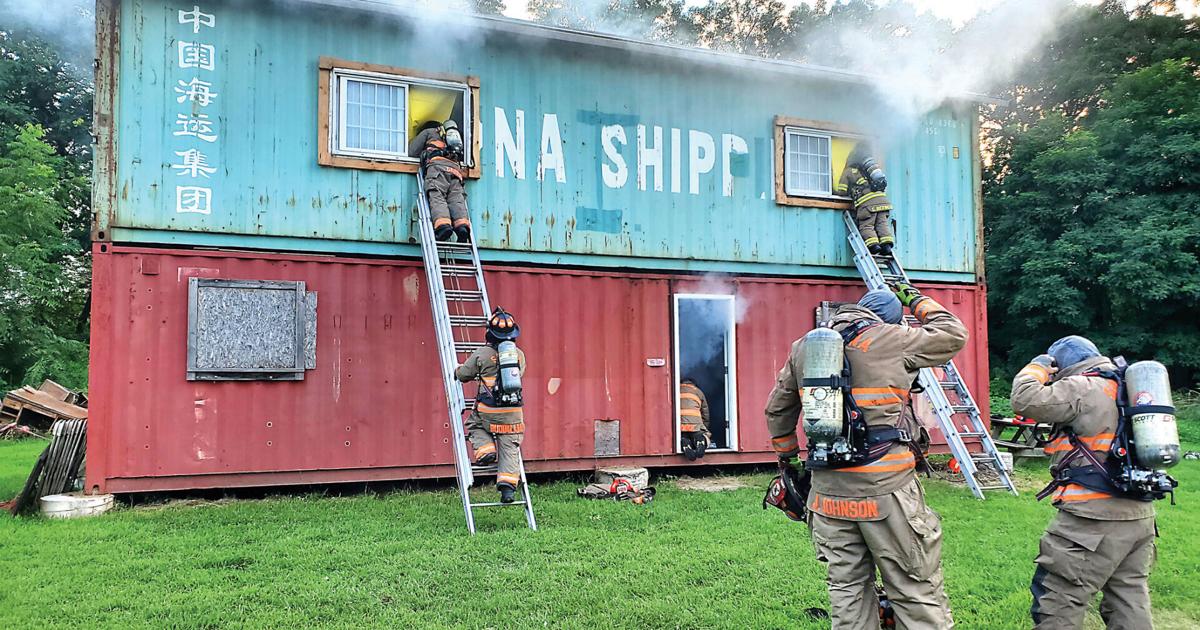 Golf Tournament Benefits Fire Training Site | New
By SAMANTHA PIDDE
A golf tournament in mid-October will allow area fire departments to raise funds to help expand the county's new fire training center in Savanna.
"Covid slowed us down as soon as we started this project, but a lot of hard work over the past year has resulted in a facility that we are all very proud of," Savanna Fire Chief Scott Wolfe told about the training center in an email interview with the Carroll County Mirror-Democrat and the Savanna Times-Journal.
Construction began on the Northwest Carroll County Fire Training Center in late 2019, which is built and funded by the Savanna, Mount Carroll, and Thomson Fire Departments. The 1,600 square foot structure is located next to the Old Town landfill on Wacker Road, east of Savanna, and is designed to replicate a two-story residential home.
The first formal training session at this facility was held in July and firefighters will participate in a September training exercise at the facility later this month.
Currently, the center consists of four 40ft and two 20ft shipping containers, which have been assembled and modified to create a kitchen, bathroom and five additional rooms that can be fitted out to look like no other. any room in a typical house, including an attached 16 foot by 20 foot garage. The containers purchased were initially installed and used as a training center owned by a firefighter from Chadwick whose private company offered courses for the area.
"We purchased the containers and reconfigured them into a layout that will allow for future growth as additional shipping containers are purchased," Wolfe explained.
Just over $20,000 has been invested in the training center to date, the majority of which has gone towards the initial purchase of the shipping containers, purchase of an additional 40ft container, concrete work to create the footings of the structure, and building materials to create parts inside. Wolfe said the fire department has several plans for how to further expand the building and training opportunities.
Wolfe said some of those future plans are to complete a roof that was built over the 40ft section, build and shingle a roof over the "attached garage", install ventilation props on the new roof, paint the structure, install additional windows, and add additional shipping containers if funds permit. Completing the roof sections, adding more doors and windows, and painting the facility were identified as next on the group's "to do list".
Wolfe estimated the cost to complete the two roof structures at $5,000. The cost of preparing and painting the center is expected to be $1,000. Wolfe added that additional shipping containers currently sell for between $2,500 and $3,500.
"Work will also continue indoors to create various props and layouts used to provide excellent hands-on training," Wolfe said.
Proceeds from the Mount Carroll Fire Department's 28th Annual Two-Person 18-Hole Golf Tournament will be used to fund these plans.
The event will take place on Saturday, October 1 at the Lake Carroll Golf Course, with registration at 9 a.m. The registration cost is $120 per team. The top three teams will receive monetary rewards (based on the total number of entries). The event features a 50/50 raffle, hole prizes and a $10,000 Hole-in-One prize sponsored by JC Carey Motors in Savanna.
Those interested in participating can register for the tournament by calling Lake Carroll Golf at 815-493-2808. Those wishing to help with a hole sponsorship or prize contribution can call Wolfe at 815-541-5142 or Joe Grim at 815-244-0137.
Wolfe encourages people to participate in the golf tournament and help support the continued improvements of the NW Carroll County Fire Training Center. He explained that typically the only time fire departments can conduct training with a residential structure is when it is usually scheduled to be demolished.
"These houses are rare and are normally in poor condition, which limits the amount and type of training we can do," Wolfe said. "This training center will allow us to participate in all types of training in a clean and controlled environment."
Recently purchased fog machines are used to create zero visibility conditions as needed. This facility is available for use by all fire, emergency and law enforcement departments in the area.
Wolfe said the fire departments would like to thank the following companies who donated time, equipment and/or money to get them to where they are today:
Zickau construction; Seeser Crane; Ritchie excavation; Miller Excavation; S&P Construction; Brad Gallentine; JC Carey Motors; J&S body shop; Quality concrete; Mills' machine; Rock River Cartage; Midwest Motors.