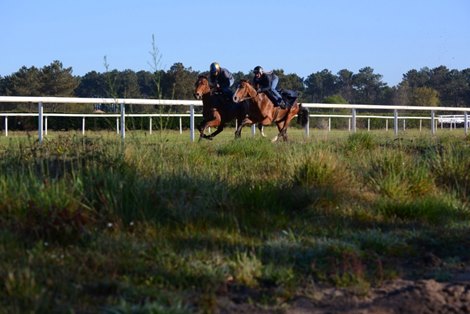 Evacuation of the Forest Fire Force at the French Training Center
The training center in La Teste de Buch, southwest of Bordeaux, France, has been evacuated as 1,700 firefighters from across the country continue to fight the forest fires that have ravaged the Gironde for eight days.
The decision was reached between officials and coaches mid-afternoon on July 18 that the flames had come close enough to start moving, with ropes scattered to other centers in Bordeaux, Langon and even Pau 2.5 hours further south.
Multi-winning Group 1 coach Christophe Ferland was among those on the road. He reported minimal disruption in the circumstances, tweeting a video of his horses heading for exercise at Bordeaux Le Bouscat racecourse on Tuesday morning.
"Ultimately, we had no choice because the fires were producing toxic fumes," Ferland said. "The whole chain was valved to the Bordeaux racecourse, and we were able to work normally this morning."
Our horses are training this morning normally!!!! Thanks again to @Hippodromebdx #solidarity pic.twitter.com/S1bJEGibKG

— CH Ferland Racing (@teamchferland) July 19, 2022
Register for BloodHorse Daily
With around 370 horses based at La Teste, the operation required cooperation from a number of unexpected sectors, with Spanish horse transporters crossing the border to help.
"We had help from everywhere," Ferland said. "There is a transport company from San Sebastián (northern Spain) which came to our aid with the STPH Hipavia, and the show jumping site of Loïc Durain in Bordeaux, they also helped There has been no damage to my site since this morning, but I have no idea when we'll be allowed back."
The La Teste training center is based around the racecourse, which serves as a base for the police and fire brigade.
Two fires in the area have consumed around 17,000 hectares (42,007 acres) of forest and other vegetation, with more than 5,000 hectares (12,355 acres) burned in the immediate vicinity of La Teste alone.
On Monday, nine planes were active over the area dropping water, while Marc Vermeulen, the regional director of fires and security, told Le Monde newspaper that his officers had seen "pine trees from 40 years ignite".
On Tuesday morning, emergency services rushed to complete a 40-metre firebreak along a five-kilometre front in a bid to stop the advancing flames.
The decision to evacuate was made when winds of 37 mph changed direction on Monday. While the region continued to experience temperatures as high as 40C (104F) on Tuesday, the location of the heat wave was expected to move further east as the day progressed.