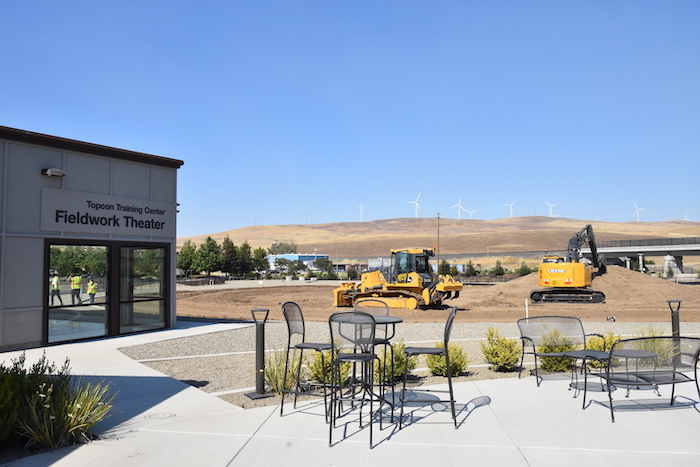 Customer experience at the heart of the new Topcon training center
Topcon Positioning Group's new John D. Dice Training Center is designed to meet today's most advanced training needs, a direct result of decades of program development. Participants enjoy a remarkable learning experience and return often for more.
Based in Livermore, California, Topcon positioning group is a leading designer, manufacturer and supplier of measurement and workflow solutions for the construction, geospatial and agricultural markets. Topcon unveiled its new John D. Dice training center last year. Aimed at keeping customers and dealers informed of the latest Topcon technology solutions, it is one of the latest additions to a growing network of such centers around the world.
The man whose name adorns the installation, John D. Dice, is director of professional services for Topcon. A Topcon employee since 1984, he has been instrumental in the development of the Center's curriculum and the continued success of the company's distributor and customer training programs.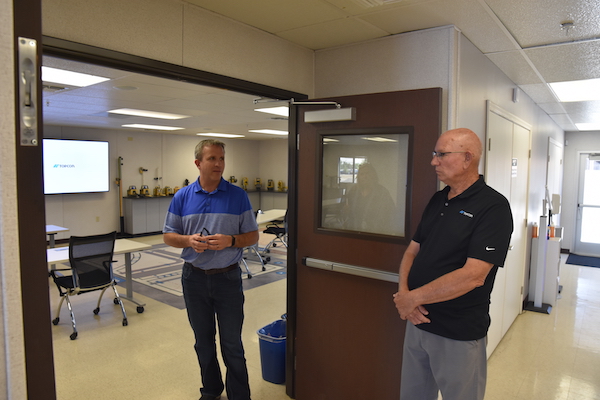 "As a measure of success," Dice said, "we can cite the many end users who come back for additional training opportunities. They invest their time to come here, and in most cases they already know the product, but they gain new knowledge about what the technology can do. We often get the reaction, 'Wow, I didn't know it could do that!' It's really a metric—returning participants—because they've seen a greater benefit from the technology when they've gone home and used it. We're always happy when they return, often bringing others from their organizations with them, year after year, because they see the value in training.
Topcon Positioning Group's global headquarters now comprises more than 15 acres, bringing the total land held in the Tri-Valley area to nearly 80 acres for an investment exceeding $20 million. Topcon also purchased a nearly 31,000 square foot building it previously leased, and it purchased 60 nearby acres that have been set aside for a new state-of-the-art test site for construction, geospatial and agricultural products and solutions.
Dice said the training center receives about 2,000 trainees each year. The majority of Topcon's more than 120 e-learning or training sessions can be grouped into a wide range of "learning tracks". Some cover specific Topcon solutions such as 3D-MC grade control software, while others deal with more practical topics such as operating an excavator with Topcon hardware on board.
"We're focusing on about two dozen tracks," Dice said. "They are based on our solutions, including GNSS and machine control, for a wide range of applications. For machine control tracks, we divide them into specific classes for machines, bulldozers or excavators, for example, with hands-on machine training. In addition to the categories of solutions, we have tracks for different types of participants. Is this a training session for technicians who come to learn how to bolt the equipment, calibrate it and operate it? If this is a session for dealership sales reps, we will focus on learning about the features and benefits. For end users, we'll tailor the class to focus on functionality, showing them how they can achieve the best productivity and workflow processes.
make memorable
Everyone knows that all work and no play makes Jack and Jill boring, inefficient learners, or something. Ron Oberlander is the vice president of global professional services for Topcon Positioning Group. He said trainees who come to the John D. Dice Training Center are treated as guests and can expect a warm, challenging and fun experience.
The view of the surroundings from the property is certainly nice. The Tri-Valley region of California is known for its Mediterranean climate, vineyards and nature. "Of course, lunchtime is great," Oberlander said, "You can walk outside and sit down, depending on the heat, and just relax. When we're done with our training day, you know, with the sunset, we'll go out again. At five o'clock, we don't want them to go home, so we go to the fridge, which is full of cold drinks. We'll offer people something to drink and something to eat. , hardware, like t-shirts We usually have background music, darts and other games.
"It's a relaxing environment," Dice said. "When they're at home, working there, we know that dealers do their best to educate their customers. But when they come here, it's a different environment. We want them to relax. It's a fun event, a good event, and we think it makes for a better and more effective learning experience.
"This site is fully managed by the Professional Services team," Oberlander said. "So it's not a sales pitch, it's not marketing."
All together now
Topcon wants attendees to be satisfied, so the training center offers a tailored program for today's changing demographics, with the ultimate goal of helping trainees be more productive in their jobs. . And that can even mean helping them better understand non-Topcon solutions. The team knows that many if not most job sites today use mixed fleets, which means different types and brands of machines, different types and brands of solutions, and engineering and design software from different companies.
"Our customers may have a mix of all three positioning manufacturers," Oberlander said. "So we made a very conscious effort, unlike our competitors, to say we have an open format. We want to help you communicate with our machines and find the right way to communicate with our software, whatever other parts of the system you use.
Dice elaborated on this flexibility: "We might have contractors who work with a significant percentage of Caterpillar machines, but it won't be 100%. They will have other machines. How is this client going to start a base station? How are they going to locate the construction site? When OEMs come here, they kind of open their minds. It is not enough to operate this machine. A machine must operate in an environment. Once you're on Sitelink, Topcon's construction site management web platform, you'll need to get the files, start the job, and communicate with those other machines on site, regardless of brand.
John D. Dice Training Center sessions include classroom experience and real hands-on, on-site experience with some of the latest construction machinery on the market. Trainees are advised to lace up their boots and roll up their sleeves, and when the weather gets really bad they can stay indoors for sessions that include remotely connected machines and virtual simulations. When it's all over, Dice and Oberlander know they'll have rekindled old friendships, found new converts, and made new acquaintances who will come back for more.