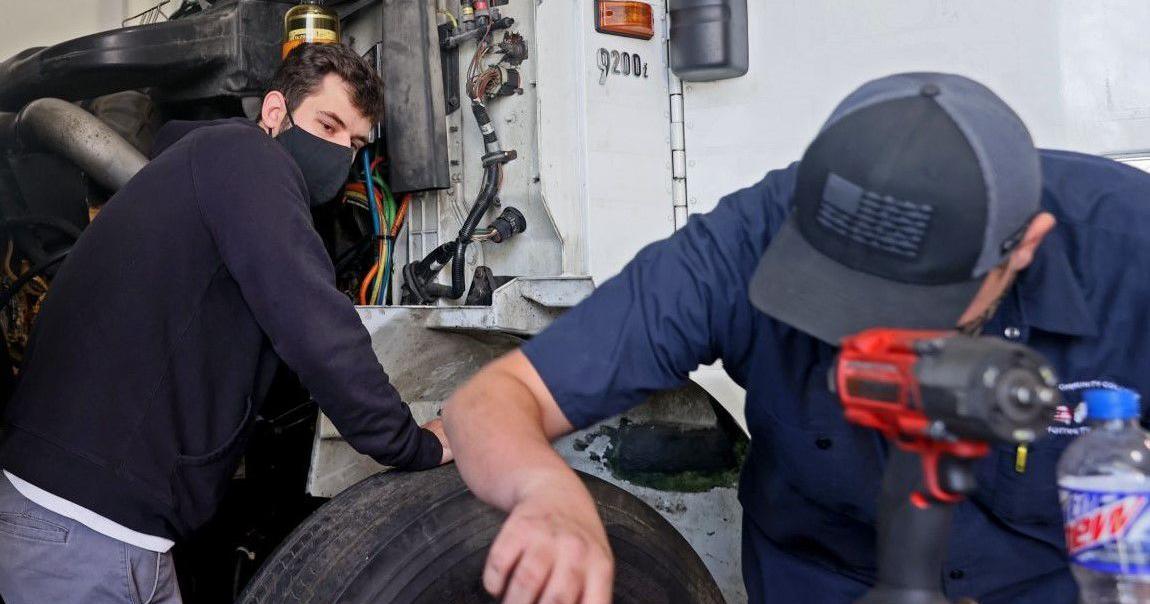 County government seeks big financial boost for Wellston Vocational Training Center | Politics
WELLSTON — Watching them tinker with tractor-trailer engines parked inside a converted factory here, Josh Walker said he was confident these students would be recruited by employers, some before they even finished their Classes.
"It's insane," said Walker, who directs St. Louis Community College's Diesel Tech program that operates out of the Metropolitan Employment and Training Center. "If they come in August, I've had 100% hired classes in October."
The Heavy Duty Truck Repair and Maintenance program is just one of many classes offered by the MET Center. On the fourth floor, there are Licensed Practical Nurse certificate classes operated by the St. Louis County Special School District. There is a lab technology training program with a curriculum that companies like Pfizer and KWS have helped design. St. Louis Public Schools hosts GED courses in the building.
Acquired by the St. Louis County Economic Development Branch in the 1980s for environmental cleanup, the former Wagner Electric plant was converted into a MET Center in the 1990s. Steps from a stop MetroLink and a daycare operated by one of the MET Center tenants, it has long served as an important anchor in one of the region's poorest communities.
But the MET Center was not used to its full potential. Today it's just about 65% rented. Some $3 million in capital requirements for the old building are looming. The sixth floor is unfinished.
As employers grapple with labor shortages and a shortage of trained workers for the jobs they need to fill, local governments have an unprecedented amount of federal dollars available for skills training and education. investing in low-income communities. The county plans to use $22 million of its $193 million American Rescue Plan Act allocation, passed by Congress in March, for a major expansion of MET Center programming. The stipend could help cement the MET Center's place as a hub for services designed to help some of the St. Louis area's poorest residents gain a foothold on the economic ladder.
"The need is there, the space is here," Seward said. "We just need some extra support."
St. Louis County Executive Sam Page recommended funding for the MET Center in a July letter outlining a spending plan for ARPA funds. The St. Louis County Council still hasn't decided on a plan to spend the money.
St. Louis County Council Speaker Rita Days, who said the council would work on her plan after hearing from accounting firm Deloitte about eligible uses of federal funds, said the earmarking of a portion of ARPA money at the MET center was a great idea.
"I think people recognize that this is a resource that we really need to invest in and make sure that happens, not just for the people of Wellston, but also for the people of St. Louis County," said Days. "Look where it is. It's on a bus line. It's on a metro line (link). Transportation shouldn't be a problem for people. I think he's perfectly poised to make a major transition for the community.
Application for workers
The renewed focus on the St. Louis County MET Center and its economic development arm, the St. Louis Economic Development Partnership, comes amid what could be a secular shift in the labor market. As the effects of government stimulus measures, which gave lower-paid workers new leverage to demand higher wages or quit extra jobs, wane, the accelerated pace of retirements among baby- boomers and the high cost of child care may be contributing to a persistent shortage in the labor force, some economists believe.
Even before changes in the job market, many employers had long complained about the difficulty of filling positions that required special training or licensing – nursing, trucking, laboratory workers and computer programmers.
Locally, the problem is compounded by St. Louis' slow population growth. Where other regions can rely on immigration and newcomers to support their labor market, Saint-Louis must think about how it can attract people who do not participate in the traditional labor market – often in poor communities like Wellston, devastated by factory closures. and population loss — to join, said Hart Nelson, associate vice chancellor of workforce solutions at St. Louis Community College.
"Why the MET Center I believe is really important, the most successful programs are going to find ways to reach communities that are already there who have pulled out, who feel like they've been left behind, and it's critical for us to be able to fill the jobs we have," Nelson said. "If we're not attracting immigrants and we know we're not growing, that means we have to reach out to people who are closer. We need to address those issues and work on them as well, but right now we need to reach out to people who are here who aren't participating, and you can't do that from Brentwood.
Jason Hall, CEO of regional business and civic group Greater St. Louis Inc., agreed that the MET Center is in a "strategic location" that makes it easier for residents of low-income communities to access training services. And thriving metropolitan areas must devote resources to training in order to adapt to rapid technological change and compete for jobs.
"It's just in the wheelhouse of what we need to continue to focus on in the metro (region)," Hall said of the MET Center.
The Family and Workforce Centers of America has played a larger role in the MET Center since Seward founded it about 10 years ago. In addition to qualified training courses, it offers courses in soft skills – interpersonal skills, communication and work ethics – necessary for all jobs. The nonprofit also offers financial literacy classes and runs the Early Explorers Child Development Academy a block away.
Enveloping services
About 300 to 400 people take vocational training through the MET Center each year. Thousands more are taking soft skills training or accessing other employment services there, Seward said. It's these holistic services like financial literacy, legal help with warrants and tickets, combined with job training that can help change someone's life, she said.
"If we're not talking about trying to center and stabilize individuals with these types of services, it's just a vicious cycle," Seward said.
She may soon get the chance to play a bigger role at the MET Center. St. Louis County, which subsidized the operations of the MET Center for years, withdrew from its role there this summer. Under a new lease, the county will invest $500,000 a year in the MET center. The LCRA, which owns the real estate, will inject $250,000 for major repair costs and seek new tenants to lease space in an effort to bring the MET Center to become more financially self-sufficient. In the meantime, the county and the LCRA will seek further federal grants for major repairs.
The Family and Workforce Centers of America, which has about 85 employees across multiple sites, could end up taking over as the anchor tenant, or even owning the building. Seward is confident she can bring more programs and make the MET Center self-sufficient, as she tries to do with her clients. She said she was in talks with the United Auto Workers union, dealerships and auto repair shops to hold an auto repair training course in unused industrial space. The program could incorporate electric vehicle servicing, a skill set that is sure to grow in demand.
These types of training programs are important, said Deanna Venker, St. Louis County executive director, because labor needs change. Although the county has stepped back from a management role, Venker said he still has a strong commitment to the MET Center.
"We decided to take the bull by the horns and make some programmatic changes to be able to fully utilize it," she said. "There are so many opportunities at the MET Center to hit (occupancy) up to 100%, which would be fantastic for the community."