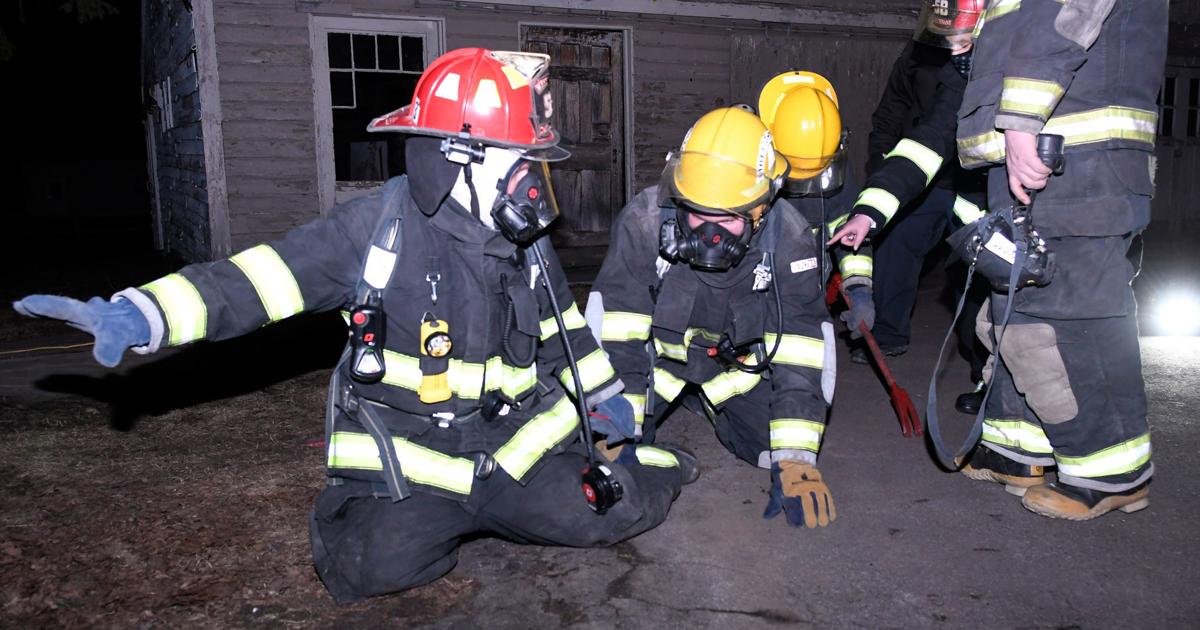 A foreclosed house next to a fire station is a new training site | Local
GRANVILLE — There's nothing better for a firefighter than being able to smoke out a real house and crawl around looking for a hidden dummy.
" It's really fun. You have to keep your limbs active," said Penrhyn Engine & Hose Company Volunteer Fire Chief Austin Perry as a group of new and experienced volunteers gathered in the freezing cold on Tuesday to practice searching and the saving.
Firefighters went to a county tax foreclosure auction to acquire the home, which sits next to the fire station and has been abandoned for years. Now that they finally have full ownership of it, they plan to repaint it and are working on structural repairs so it can be used repeatedly for training.
The house and its convenient location will be a big draw, Perry said. This should keep its current members interested and hopefully attract new members to bolster the ranks.
Firefighter Michael Hayward, from Granville, eagerly crawled through the smoky house as other firefighters taught him how to use his airbag and search effectively.
He is working on becoming an indoor firefighter, which requires specialized training.
"It was fun, it was really fun," he said after walking out of the house. "It's something I've always wanted to do."
As others run out of burning houses, he can't wait to run into them.
"The adrenaline rush you get, and that commitment you have to the fire service, and because it's fun," he said.
Ethan Barnes of Granville, an interior firefighter for six years, taught at Hayward. He said it's rare to have to search for someone in a smoky house. So he was happy to practice the maneuvers.
"It gives you a chance to practice our skills. With everything you learn, if you don't practice it gets rusty," he said.
This time the "victim" was a bundle of old hoses in a firefighter's turnout gear, which firefighter Nate Loomins triumphantly hauled up a ladder once he was found. Then he dropped it bluntly, to general laughter.
Light practices like this can serve them well if ever there is that worst moment when they need to find someone fast.
"I wouldn't say it's not terrifying," Barnes said. "You just have to rely on your training."
The West Pawlet Volunteer Fire Department also benefits from the new training house. A crew drove from the Vermont border community to Granville on Tuesday for scheduled training.
"The two new guys are here tonight to learn inside," Lt. Morgan Williams said. "To let them smell the smoke and feel what it is with smoke is always a good experience."
Training Officer Antonio Landon used Tuesday's event to not only introduce new firefighters to indoor conditions, but also to practice firefighting outdoors. He stressed the importance of communication and coordination, ensuring that a two-person team outside knew what the two-person team inside was doing at all times.
"You always want to have an away team, in case something happens," he said.
At the gate, Brandon Heath of Granville, who joined the fire department a month ago, collected each firefighter's red tags as they entered. When they left, they took their tags back, so he could be sure no one was left behind. Nearby, member Jim Bradt was arranging air cylinders, with full cylinders on a green tarp, so firefighters knew which ones to grab.
"Communication and coordination," Landon said.
There are other training sites. But if members drive to one of the more centralized locations, there's always a chance there'll be a fire in town while they're away. Having a house next door therefore gives them the luxury of training more often, without worrying about fire cover.
"If we get a fire call, all we have to do is walk across the driveway," Bradt said.
You can reach Kathleen Moore at 742-3247 or [email protected] Follow her on Twitter @ByKathleenMoore or on her blog at www.poststar.com.