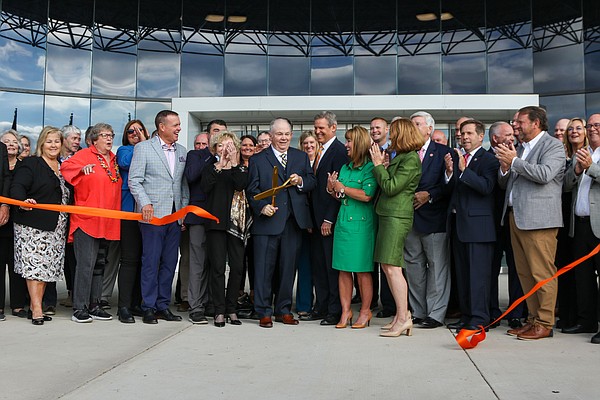 $1 million bolsters Bradley County Workforce Training Center
CLEVELAND, TN — Polysilicon manufacturer Wacker donated $1 million on Tuesday to an innovative new workforce training site that Governor Bill Lee helped officially open while calling it "an opportunity to change people's lives."
"The state with the workforce will win in the future," Tennessee governor told several hundred people who showed up to mark the start of the Partnerships in Industry and Education Innovation Center in Bradley County .
Lee also toured the $34.5 million facility where about 60 high school students already come for half of each school day to be trained and work in a variety of technical and medical careers in programs designed by local industry leaders.
The renovated former uniform production plant that was one of the county's biggest employers is expected to eventually accommodate about 600 to 800 training students, officials said.
Amanda Lee, chairwoman of the Bradley County School Board, told the group that the "long-awaited day" began seven years ago.
"You made history today," she said.
Bradley County School Superintendent Linda Cash said the Innovation Center still reflects the entrepreneurial spirit apparent in the founders of the former factory.
"Students will acquire high-level skills," she said. "Our goal is to give them a bright future. I truly believe this will be a game-changer for education."
U.S. Representative Chuck Fleischmann, R-Ooltewah, said if there's a need in the voluntary state, it's in workforce development.
"He's not just a model for Bradley County, he's a model for America," he said.
David Wilhoit, chairman and chief executive of Wacker Chemical Corp., said when announcing the donation that the company had a history of more than a century in Germany.
"I think we'll have a long history in Bradley County," he said.
In July, Wacker unveiled plans to invest an additional $200 million in its Bradley County plant and create 200 additional jobs. The company already employs around 700 people at the plant which opened in 2015.
Lee said the innovation center is unique because it is a partnership between public schools, colleges, the private sector and nonprofit organizations. The state invested about $1 million in the initiative about three years ago.
"What you see in there are facilities to educate diesel mechanics and healthcare workers, computer scientists and all kinds of opportunities for all types of young people," he said. "I see changed trajectories and changed lives."
Tennessee Rep. Dan Howell, R-Cleveland, said from the "start-up money" from the state that received the project, "a mighty oak tree grew."
He said the center "could eventually set the course for the future of education in the state…as a model."
Brittany Cannon, the centre's director, said what started seven years ago was just a dream.
"Welcome to our field of dreams," she told the group. "We will reach higher and go the distance."
Doug Berry, vice president of economic development for the Cleveland/Bradley Chamber of Commerce, said in an interview that the companies he talks to are looking for both quality and quantity when it comes to labor. .
He said the comments he receives about the center are that "they have never seen anything like it in the country".
Cleveland Mayor Kevin Brooks said the facility will serve as a regional training center and model.
"We already have other states coming to see it," he said in an interview.
Contact Mike Pare at [email protected] or 423-757-6318. Follow him on Twitter @MikePareTFP.